Contested Histories and Politics of Remembrance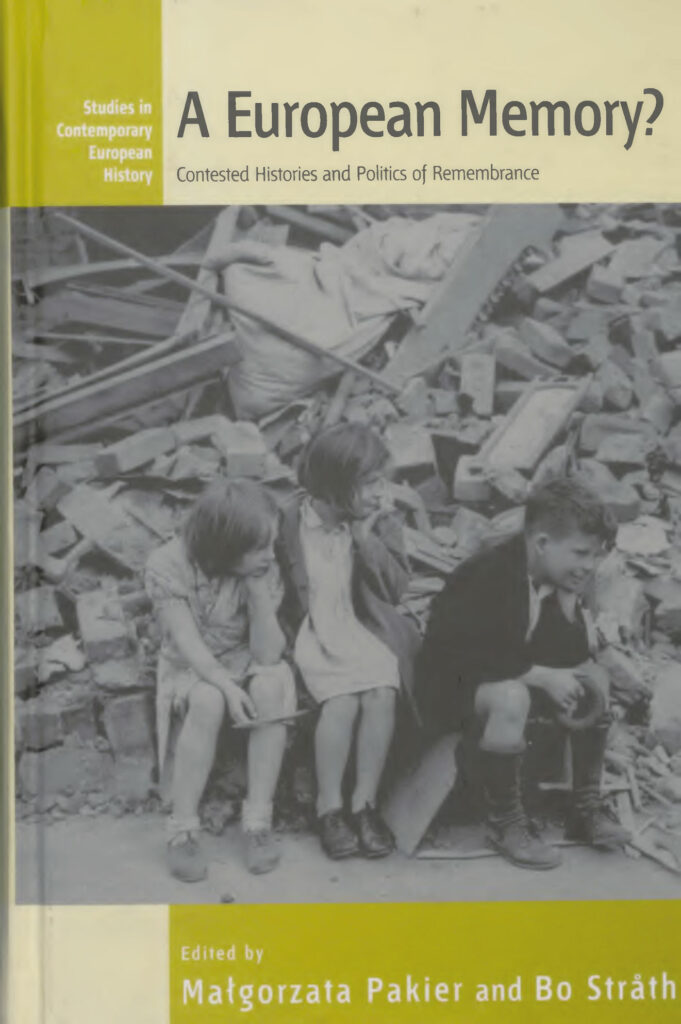 Abstract
An examination of the role of history and memory is vital in order to better understand why
the grand design of a United Europe – with a common foreign policy and market yet enough
diversity to allow for cultural and social differences – was overwhelmingly turned down by
its citizens. The book argues that this rejection of the European constitution was to a certain
extent a challenge to the current historical grounding used for further integration and further
demonstrates the lack of understanding by European bureaucrats of the historical complexity
and divisiveness of Europe's past. A critical European history is therefore urgently needed to
confront and re-imagine Europe, not as a harmonious continent but as the outcome of violent
and bloody conflicts, both within Europe as well as with its Others. As the authors show,
these dark shadows of Europe's past must be integrated, and the fact that memories of Europe
are contested must be accepted if any new attempts at a United Europe are to be successful.
Contents
Introduction
A European Memory? Malgorzata Pakier and Bo Stråth
Part I. Europe, Memory, Politics and History: A Normative and Theoretical Framing
Section 1. Normative Perspectives and Lines of Division of European Memory Constructions
Chapter 1. On 'European Memory': Some Conceptual and Normative Remarks. Jan-Werner Müller 25
Chapter 2. The Uses of History and the Third Wave of Europeinisation. Klas-Göran Karlsson
Chapter 3. Halecki Revisited: Europe's Conflicting Cultures of Remembrance. Stefan Troebst
Chapter 4. Iconic Remembering and Religious Icons: FundamentalistStrategies in European Memory Politics? Wolfgang Kaschuba
Section 2. Towards a Fluid Conceptualization of Memory Constructs
Chapter 5. Culture, Politics, Palimpsest: Thesis on Memory and Society. Heidemarie Uhl
Chapter 6. Damnatio Memoriae and the Power of Remembrance: Reflections on Memory and History. Frederick Whitling
Chapter 7. Seeing Dark and Writing Light: Photography Approaching Dark and Obscure Histories. James Kaye
Part II. Remembering Europe's Dark Pasts: Four Fields of Commemoration
Section 3. Remembering the Second World War
Chapter 8. Remembering the Second World War in Western Europe, 1945-2005. Stefan Berger
Chapter 9. Practices and Politics of Second World War Remembrance: (Trans)National Perspectives from Eastern and South-Eastern Europe. Heike Karge
Chapter 10. A Victory Celebrated: Danish and Norwegian Celebrations of the Liberation. Clemens Maier
Section 4. Towards a Europeanisation of the Commemoration of the Holocaust
Chapter 11. Remembering Europe's Heart of Darkness Legacies of the Holocaust in Post-war European Societies. Cecilie Felicia Stokholm Banke
Chapter 12. Holocaust Remembrance and Restitution of Jewish Property in the Czech Republic and Poland after 1989. Stanislaw Tyszka
A Europeanisation of the Holocaust Memory? German and Polish Reception of the Film Europa, Europa. Malgorzata Pakier
Chapter 14. Italian Commemoration of the Shoah: A Survivor-Orientated Narrative and Its Impact on Politics and Practices of Remembrance. Ruth Nattermann
Section 5. Coming to Terms with Europe's Communist Past
Chapter 15. Managing the History of the Past in the Former Communist States. Arfon Rees
Chapter 16. Eurocommunism: Commemorating Communism in Contemporary Eastern Europe. Péter Apor
Chapter 17. The Memory of the Dead Body. Senadin Musabegovic
Chapter 18. Neither Help nor Pardon? Communist Pasts in Western Europe. Kevin Morgan
Section 6. Coming to Terms with Europe's Colonial Past
Chapter 19. Politics of Remembrance, Colonialism and the Algerian War of Independence in France. Jan Jansen
Chapter 20. Memory Politics and the Use of History: Finnish-Speaking Minorities at the North Calotte. Lars Elenius
Conclusion
Nightmares or Daydreams? A Postscript on the Europeanisation of Memories. Konrad H Jarausch