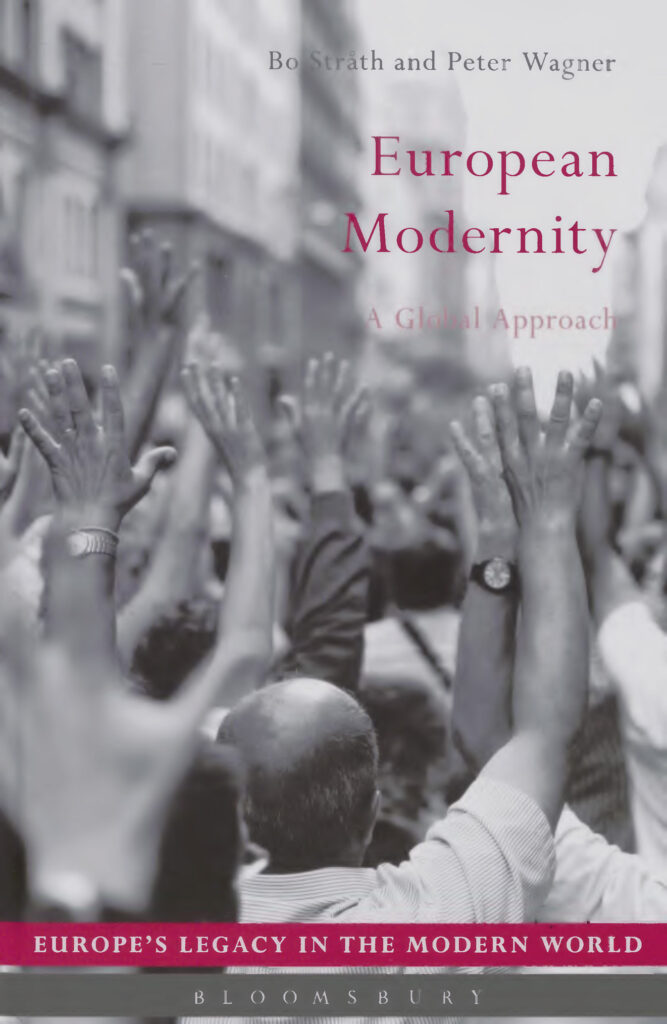 Abstract
It is often taken for granted that modernity emerged in Europe and diffused from there across the world. This book questions that assumption and re-examines the question of European modernity in the light of world history.
Bo Stråth and Peter Wagner re-position Europe in the global context of the 19th and 20th
centuries. They show that Europe is less modern than has been assumed, and modernity less European and thus decentre Europe in a way that makes room for a wider historical perspective. Adopting a thematic structure, the authors reconceive the idea of European modernity in relation to key topics such as democracy, capitalism and market society, individual autonomy, religion and politics.
Table of contents
Part I. The Question of European Modernity
1. Introduction: Modernity – Europe – European Modernity
2. What is Europe?
Part II. Key Features of European Modernity Reconsidered
3. Europe's Hesitation with Democracy
4. The Industrial and Market Revolution in Global Perspective: The Colonial Heritage and the
Social Question
5. European Religion: The Christians and the Others
6. The European: Atom – Individual – Person – Subject?
PART III Transformations of European Modernity
7. The Axial Age and Modern Europe
8. The Great Transformation: Organized Modernity for Welfare and Warfare, 1870s – 1960s
9. The New Great Transformation: The Global Challenge of Historical Injustice and Movements
for Collective Self-determination: 1960s – The present
Epilogue
Bibliography
Index
Reviews
"A highly important work operating right at the intersection of two major intellectual challenges of our time period. The authors help us to further decenter our conceptions of modernity while at the same time putting facets of European history newly into global historical contexts." – Dominic Sachsenmaier, Professor, University of Göttingen, Germany
"In this fluidly written and rigorously argued book, Strath and Wagner challenge the idea of 'modernity' that began in Europe and then spread elsewhere. In doing so, they offer important insights into the role of markets, trade, colonialism, and globalization in the making of the modern world. The book 'provincializes' both Europe and north America, the latter being the most important twentieth century legatee and champion of European style modernization and modernity. Far reaching in its historical and philosophical implications, this book is a landmark in scholarly analyses that seek to de-center Europe." – Rochona Majumdar, Associate Professor, The University of Chicago, USA
"'What is Europe?' ask Bo Strath and Peter Wagner in this elegant and finely-argued book. For a stubborn many, Europe is the birthplace of modernity, the avant-garde that anyone and any place wishing to be considered modern must follow. Strath and Wagner challenge this European self-praise. Working in English, French, German and Spanish, and drawing on their expertise in History, Sociology and Philosophy, Strath and Wagner not only provincialize Europe but do so in ways that respect the historical specificity of Europe. That is, they pay attention to the relative uniqueness of processes both internal and external to Europe, both good and bad, both ambiguous and contradictory. It remains to be seen how many of those who insist on the discredited idea of Europe as the sole parent of modernity will be moved by this excellent book to reconsider their prejudices. But, whatever they do, they cannot ignore the sophisticated argument offered here." – Jacob Dlamini, Assistant Professor of History, Princeton University, USA
– See more at: https://www.bloomsbury.com/us/european-modernity-9781350007062/#sthash.Hh2WqLr0.dpuf